Dr. Brad Carmichael
Dr. Brad Carmichael was raised in the Peters Township community where his father, Dr. James Carmichael, established Pleasant Valley Veterinary Clinic in 1973, making it the area's longest standing veterinary practice. He earned his bachelor's degree from Wake Forest University and then graduated with the honor of Phi Zeta from The Ohio State University School of Veterinary Medicine in 2000. After serving the role of the hospital's director for many years, he acquired Pleasant Valley from his father in 2008. "Dr. Brad", as he is known at the clinic, is active in his community, and is a regularly scheduled speaker in the local schools. He also teaches practice management as a guest lecturer at the Pittsburgh Veterinary Technical Institute and sits on the Institute's Accreditation Advisory Board. Brad was a member of The Ohio State University Alumni Society's Board of Trustees from 2004 until 2010. He was the president of the Alumni society in 2008 and 2009. He also sat on The Ohio State University's Veterinary Teaching Hospital's Advisory Board. He currently lectures in the states of Ohio and West Virginia for Zoetis Animal Health on the topic of Lyme disease. He is a huge fan of all the Pittsburgh sports teams and Ohio State Football. In his spare time, Dr. Brad enjoys cooking, golfing, and spending time with his family.
---
Dr. Mike Pensenstadler

Dr. Mike Pensenstadler has been practicing with Pleasant Valley Veterinary Clinic since June of 1996. He grew up in Ambridge, Pennsylvania and graduated valedictorian from Ambridge High School. Dr. Mike currently resides in Venetia, Pennsylvania with his wife Kelly, son Matthew, one cat, two dogs, two parakeets, several chickens, and a horse. Dr. Mike received his undergraduate degree from Gannon University in Erie, Pennsylvania and graduated summa cum laude. He then received his VMD from the University of Pennsylvania School of Veterinary Medicine. Dr. Mike decided he wanted to become a Veterinarian in the 9th grade. His father was a veterinarian so he was exposed to veterinarian medicine at an early age. He realized with his propensity for math and science, his love of animals and his upbringing that veterinary medicine was for him. Dr. Mike has special interests in internal medicine, emergency medicine, soft tissue surgery, ultrasound, pain management, greyhound care, and wellness and preventative medicine. He also enjoys hiking, golf, scuba diving, reading, playing the guitar, and anything Disney. Dr. Mike only offers the best in high-quality medicine and exceptional customer service.
---
Dr. Joanne Jones

Dr. Joanne Jones has been at Pleasant Valley Veterinary Clinic since June 1985. She is a West Virginia native, graduated from West Virginia University in 1980 and then received her Degree in Veterinary Medicine from the University of Georgia in 1984. She practiced near Macon, Georgia for 1 year before coming to Pennsylvania. Her primary focus at Pleasant Valley Veterinary Clinic is general medicine including vaccinations and parasite control. She currently lives on a beef farm with her husband and family in Southern Washington County. She and her husband recently helped celebrate their grandson's first birthday in Feb 2020. Dr. Jones enjoys horseback riding with her two new gaited horses, as well as driving retired standardbreds in their buggy. Her family also has 1 dog, 3 horses, and over 60 beef cows who calve every spring. She enjoys travel, and has visited several countries in Europe.
---
Dr. Andrea Gordon

Dr. Andrea Gordon is a native of Wexford, PA, graduating from North Allegheny High School. She completed her undergraduate degree at the University of Pittsburgh and her DVM at The Ohio State University, School of Veterinary Medicine. Dr. Andrea enjoys spending time outside bike riding with her husband. Her family has 2 fluffy small dogs, Newt and Lorraine, a boxer, Bella and three cats, Petey, Marshall, and Douglas.
---
Dr. Jacob Knox
Dr. Jacob Knox was born and raised in Valencia, PA and graduated from Mars Area High School. He has known since 8th grade that he has wanted to be a veterinarian. He is passionate about the human/animal bond that he gets to cultivate every day. He earned his bachelor's degree in Molecular Biology at Grove City College in Grove City, PA. He then went on to receive his DVM from Tufts University Cummings School of Veterinary Medicine in Boston, MA. His veterinary passions include orthopedic and soft tissue surgery, endoscopy, and ultrasound. In his free time, Jacob enjoys traveling and spending time with his wife, Amy, and his three little ones. He also enjoys watching Pittsburgh sports and spending time outdoors, biking, and hunting with his dog, Annie, a Brittany. He is excited to be a part of the most exceptional veterinary team in Pittsburgh!
---
Dr. Michael Wells
Dr. Wells was born and raised in Bethesda, Maryland, and graduated from Georgetown Preparatory High School. He completed his undergraduate degree at the University of Virginia. He earned his DVM from St. George's University, spending 3 years in the beautiful Caribbean before completing his clinical year at the University of Tennessee. Dr. Wells enjoys spending time with his wife Sara and their many furry children including their English Springer Spaniel, Ellie; Jack Russell, BJ; Beagle mix, Oliver, and Retriever mix, Sadie; Pineapple Green Cheek Conure, Nora; Rabbits Basil, Chris, and Harrison; and an adorable clowder of cats (Chewy, Sandy, Karen, Mabel, Holly, James, Merlin, and Captain Kiwi to name a few). As well multiple special needs cats Including 3 cats with Cerebellar Hypoplasia. Also non-furry children including Meeps the Bearded dragon, Woodhouse the chameleon, and multiple Tree Frogs. Dr. Wells does see avian and exotic patients as well as cats and dogs.
---
Dr. Elizabeth Hart
Dr. Hart was born and raised in the Pittsburgh area. She earned her Bachelor's of Science degree in Biochemistry and Molecular Biology from Messiah College in 2012 and went on to earn her Veterinariae Medicinae Doctoris (VMD) degree from the University of Pennsylvania School of Veterinary Medicine in 2016. She joined the PVVC team in 2017. She likes to think of herself as an advocate for her patients and a resource for her clients. Some of her clinical interests and talents include soft tissue surgery, cardiology and echocardiography, exotic animal medicine and surgery, emergency medicine, and dentistry. Dr. Hart shares her home with her husband Andrew, their baby girl, Maggie, and their three kitties, Piper, Savannah (pictured), and Lexie. In her free time, she enjoys reading and crocheting, skiing and snowboarding in the winter, hiking and biking in the summer, and binging Netflix year-round. She looks forward to serving the community she knows and loves for years to come!
---
Dr. Taylor Hawkins
Dr. Hawkins was born and raised in Murrysville, PA, graduated from Franklin Regional Senior High School and completed her undergraduate degree in Biology at Allegheny College in 2012. She earned her DVM from Ross University on the beautiful island of St. Kitts in the West Indies before completing her clinical year at Purdue University. Her veterinary interests include surgery, ultrasound, dentistry, endoscopy and fostering the human-animal bond. In her free time, Taylor enjoys spending time outside, especially running, hiking, and walking with her dog, Lily, a miniature schnauzer. She is also enjoys reading, guitar playing, Netflix binging, and anything Harry Potter/Disney. She is very excited to have the opportunity to work with the amazing team at PVVC.
---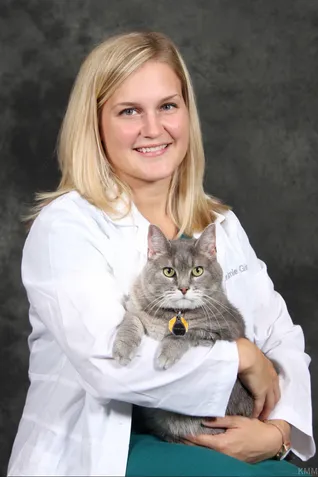 Dr. Jamie Gimbus

Dr. Gimbus has lived in several different states all around the United States but would say her hometown would be a tie between, Pittsburgh and Delaware. Her family moved frequently because of her father's military career, but finally settled into raising horses! Her family now has a beef farm in Beaver, PA. Dr. Gimbus earned her bachelor's degree of Animal Science with a minor in Equine Science at Penn State University. She then graduated from The Ohio State University veterinary school in 2014. She rounded out the last of her veterinary schooling by completing a one-year rotating internship at PVSEC here in the Pittsburgh area. Dr. Gimbus joined our practice in the spring of 2021. Her clinical interests range from oncology, internal medicine to pediatric care (bring on the puppies and kittens!). Dr. Gimbus finds spending time with her husband, two kids, and dog recharges her batteries and lets her be a superb doctor! They enjoy outdoor activities together, and Dr. Gimbus finds personal fitness extremely important to finding her balance.
---
Dr. Sarah Scott

Dr. Sarah grew up in the greater Philadelphia area and completed her undergraduate degree at the University of Vermont. She then earned her DVM degree from the University of Missouri College of Veterinary Medicine in Columbia, MO. In her free time, she enjoys trying new and unique foods, playing board games with friends, and spending time with her cats Angelo and Maria. Dr. Sarah is excited to be apart of Pleasant Valley Veterinary Clinic.
---
Dr. Ryker Minch
Dr. Ryker Minch was born and raised in West Alexander, Pennsylvania. As a child he re-watched Animal Planet shows so many times he wore out his grandmother's VHS tapes! He studied Biology at Grove City College and earned his DVM from North Carolina State University. During vet school he worked alongside Christian Veterinary Mission in Alaska and developed a passion for providing veterinary services to communities with limited access to care. His veterinary interests include soft tissue surgery, endocrinology, and anesthesia. He loves dogs and cats, but also appreciates zoological medicine and the occasional farm animal. In his free time, Ryker enjoys being with his wife, their newborn daughter, and Milo, their 4 year-old doodle. You might also catch him cheering on the Penguins, playing guitar, or hiking. He looks forward to partnering with the whole Pleasant Valley team to provide the best possible care for your pet!